I recently got my copy of Call of Duty: Modern Warfare 3 and I haven't been able to stop, what an amazing video game!. While I was playing I noticed the Activision logo and I remembered myself seeing that logo since the days of Tony Hawk's Pro Skater, so I decided to read about the origin and conception of this and other popular video game logos, now you probably won't overlook the EA sports the next time you see it.
PlayStation
My personal favorite, the PlayStation is one of Sony's most successful brands. Featuring an unique design that hasn't required any major changes since the days of the PSOne, first we can comment the ideas behind the famous X O Square and Triangle buttons, which have an actual meaning: The triangle refers to viewpoint; square refers to a piece of paper; the circle and X buttons represent 'yes' or 'no' decision-making.
We all have seen the next image, the famous PlayStation logo that through a simple design and 4 colors has been able to stay in our heads for over a decade, but do you know that this was not the initial design and that there were actually many proposals willing to become the console's official logo?.
The official PlayStation logo was designed by Manabu Sakamoto, who also designed the logo for Sony's VAIO computer products, now let's take a look at some of the ideas that Mr Sakamoto and others presented before defining the final concept for the console's logo.
Pretty interesting aren't they?, making a logo is not as easy as it may seem, it actually takes a long process where both shape and color are defined after being carefully evaluated by let's say, a committee.
XBox
More than 10 years ago, in 1998 to be exact, four engineers from Microsoft's DirectX team, grabbed some Dell laptops and used them to build the first prototype of a Windows-based videogame platform, the idea was to develop a product to compete against the upcoming PlayStation 2, the project was well received and soon all the people at Microsoft were working on this revolutionary project.
As the development process went by, the initial DirectXBox name was shortened to simply Xbox, then the logo was designed by Microsoft's marketing team, which in this case was the famous agency Wunderman, the logo maintains the same graphic line through the use of Window's classic green palette. But did you know that the original Xbox logo wasn't green?, the following picture was taken many years ago and showcases how the original Xbox logo looked like.
Nintendo
The next company we have is Nintendo,  a Japanese company that has been one of the lead business in the gaming industry for decades, Nintendo is also one of the oldest companies in Japan, founded in 1889 by Fusajiro Yamasuchi as a trading cards store, now the company covers not only video games but also toys and electronic devices.
Nintendo's logo hasn't changed in years, a simple and easy to read typeface placed inside a capsule-like shape reflects the company simplicity and solidity. The reason behind the use of red in the logo is to show the company's power in the industry as well as the energy that Nintendo injects in all its products.
As most of you know, the red color is ideal to attract people's attention as the eye is highly sensitive to it. An old version of the logo featured a black background, which was later changed for the current white fill in 1977, as for the typeface, it has remained the same for many years and let's face it, what changing something that works?.
Sega
Sega's tale began with a small company from Honolulu, Hawaii known as Standard Games; the company was founded in 1940 and 10 years later the headquarters were moved to Tokyo, Japan where the company's name was changed to Service Games, then they began building arcade machines and it was just a matter of time before Sega changed its name from SErvice GAmes.
We couldn't find any information regarding Sega's logo, though it seems that it hasn't changed in a while, with only some slightly changes being featured on different games, nevertheless, Sega's logo is without a doubt one of the most easy to recognize logos by gamers around the world.
Activision
Another company that's been around for a while is Activision, a company founded in the late 70's that initially was dedicated to build games for the Atari 2600, now they have merged with Blizzard to keep making awesome video games.
As it happened with Sega, there's no information regarding Activision's logo, so the only thing I can say is that I remember the first time I saw it whilst playing Tony Hawk's Pro Skater haha.
Electronic Arts
Whoever has played a sports game in his life knows about this company haha, Electronic Arts is an USA company founded 30 years ago, it became famous for promoting the people behind its games, helping them become one of the most important video game publishers in the world.
Regarding the logo, the first design  was made by Barry Deutsch of Steinhilber Deutsch and Gard design firm, the square, circle and triangle represent the main shapes in graphic design, which is something that makes me want to love this one.
The next change occurred during the 1990's, now an outlined circle was moving around the logo, something that was very common during the 90's when everything needed to look futuristic.
And finally the current design that everyone knows, we couldn't find the name of the designer but I have to say that this is one of the greatest and yet simplest logo designs ever.

As additional fact, the company's slogan has changed many times, first it was "we see farther", then "EA Games, challenge everything." followed by "EA Sports, it's in the game." – a shortened version of their original slogan "If it's in the game, it's in the game.".
Blizzard
Oh Blizzard, I own these guys those long nights during high school playing Diablo II and Starcraft. Blizzard Entertainment Inc is an USA company dedicated to video games and developing founded in 1991 under the name Silicon and Synapse. This name lingered for a few years and this was the logo you can see in their old games:
Then in 1994, a new design was presented, I don't know the name of the person who did it but the design manages to capture the essence of Blizzard, which is innovation and energy, something that they're always delivering in their games.
Visceral Games
If I thank Blizzard for my high school years, then I have to thank Visceral Games for almost making me lose my job to DeadSpace. This company is a development studio owned by the EA team. Their slogan is based on EA's "it's in the game" but with a bloodier twist that says "it's in our blood".
The logo was designed by Arnson Communications in collaboration with Bill Dawson, definitely a nice logo that unlike most of the logos featured on the list decided to work with a 3D image instead of a plain one.
Ubisoft
And directly from France we'd like to welcome Ubisoft, a large video game publisher company with headquarters all around the world. The company's name comes from the word Ubi which means "where" in Latin, hence you can say that Ubisoft means "Softwhere" or simply "software". The company is responsible for many great games such as Prince of Persia: The Sands of Time and Assassin's Creed.
The first logo makes me think about the old MTV era, very 90's I have to say but yet kinda cool.
Then they changed for a more sober design with the classic rainbow element that many designers loved a few years ago.

Finally in 2003, the company sold its game 100 million and to celebrate it, they renewed their images with a brand new logo, I'm not to sure about the complexity of the element but I have to admit that I love the font they opted for.
Naughty Dog
Any person that has had the opportunity to play the original Crash Bandicoot knows these guys, Naughty Dog Inc was founded in 1986 and was later acquired by Sony Corporation in 2001 and since then they've been developing Sony-exclusive video games.
The first logo demonstrates a clear influence of the graffiti culture, how would have imagined that this company was going to create amazing games such as Crash Bandicoot and Uncharted in the upcoming years?.
The next logo was weird, it featured three different typefaces and the mascot that was going to identify the company for many years.
Finally they came with a sober and yet attractive logo, the dog was replaced by a footprint that adds a nice touch to the black and white game between the "naughty" and "dog" words.
Infinity Ward
One of the younger companies on the list, if you are a CoD fan then you have heard about these guys, Infinity Ward started in 2001 and since then it has been in charge of the Call of Duty series.
I couldn't find information about the logo, but I like it though, what do you think about the atom?.
Update: We just received an email from Ursula Escher, the creator of the Infinity Ward logo, she told us that she had to redesign the original logo in order to make it fit better the company's name, so here's a pic of how the Infinity Ward logo used to look like: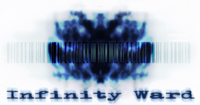 Square Enix
For those who didn't know, Square Enix was originally two companies. Enix started in the 70's as a manga and video games company, they became famous for their Dragon Quest series, Squaresoft started a couple of years after and soon it became as important as Enix.
Enix bought Squaresoft in 2003 after they declined a Sony proposal, now Square Enix is widely recognized for the Final Fantasy series and well, as for the logo, you can infer a blending of the two original logos with a nice and simple look.
Sony Computer Entertainment
I still remember the first time I saw this logo when my parents gave me my first PlayStation, SCE is a Japanese video games company founded in 1993 in Tokyo Japan, the company has expanded to Europe and North America and keeps publishing new products for Sony.
The logo is an easy solution that transmits technology and at the same time includes what it seems to be an S of Sony.
Konami
A heavyweight in the business, Konami is a Japanese company dedicated to video games, anime, trading cards, arcade machines and more, they're famous for the Metal Gear series, Dance Dance Revolution, Castlevania, Silent Hill and more.
In 1969, Kagemasa Kozuki started a jukebox rental business in Osaka, Japan, the word Konami comes from the names Kagemasa Kozuki (current chairman and president), Yoshinobu Nakama, and Tatsuo Miyasako.  The first logo remained till 1986 and maybe some of you have had the chance to see it in old merchandise.
By 1986, a new logo was released, it had all the main aspects that will be present on the company's logo for many years.
In 2003, the italics were changed for a Roman typeface, the company also introduced a new slogan to commemorate its 30th anniversary that said "Be Creative".
Finally, a new logo was incorporated recently, it resembles the original Konami logo with some type changes plus a new color and the now iconic slogan.
Midway
Although they recently announced the business' closing, Midway will be always remembered as one of the most important video game companies ever. Founded in 1958, Midway started manufacturing amusement equipment and arcade games, but the game that launched into stardom was definitely Mortal Kombat
Despite the bankruptcy announcement, Midway's assets were purchased by Warner Brothers, so we can be sure that there's plenty of Mortal Kombat games to come. Regarding the logo, I couldn't find any information about it, but I really like the simplicity and energy of it.
Eidos Interactive
Famous for the Tomb Raider series, Eidos started in the 90's as a video compression technology company to later evolve into an entertainment software publisher.

Eidos' logo is simple and yet functional, I'm not too sure about the purple usage but yet I have to say I like this one.
Namco
Who hasn't played Pacman?, the popular 80's game created by one of the major Japanese video game companies around. The company joined forces with Bandai in 2005 to form Namco Bandai Games
I was unable to find any information about the logo, I guess the red is often present in Japanese logos who also tend to be really simple and easy to read.
Capcom
If you like fighting games then you definitely know what Capcom is. Founded in the late 70's in Japan, the company started as a manufacturer and electronic game distributor, now the company has expanded and counts with headquarters in Japan, USA, England and China.
The name Capcom comes from "Capsule" and "Computer", interesting isn't it?, they are popular for huge franchises such as Resident Evil and Megaman. Their blue and yellow logo has been around for many years and now is easily recognizable.
Atari
And finally we have Atari, the company that started everything. Founded in 1972, Atari soon became the largest arcade producing company with games such as the popular "Pong", one of the biggest video games of all time.
Now let's talk about the logo, it was designed in 1972 by George Opperman, the first in-house graphic designer that the company had, the logo represents a stylized letter "A" after "Atari" but also a reference to "Pong", therefore the two sides of the Atari symbol represent the two Pong players with the center line of the court in the middle. Another fact says that the logo wants to represent the famous Mount Fuji to make an allusion to the company's Japanese origin.
And that's it, we have completed a quick journey across some of the most popular video game companies, we know that there are several who miss the cut, yet we tried to mention all the important ones. What's your favorite logo?, do you see any patterns between the different companies?, leave us your opinion or send us a tweet to @mishesblog, thanks for visiting and we'll see you on our next article!.